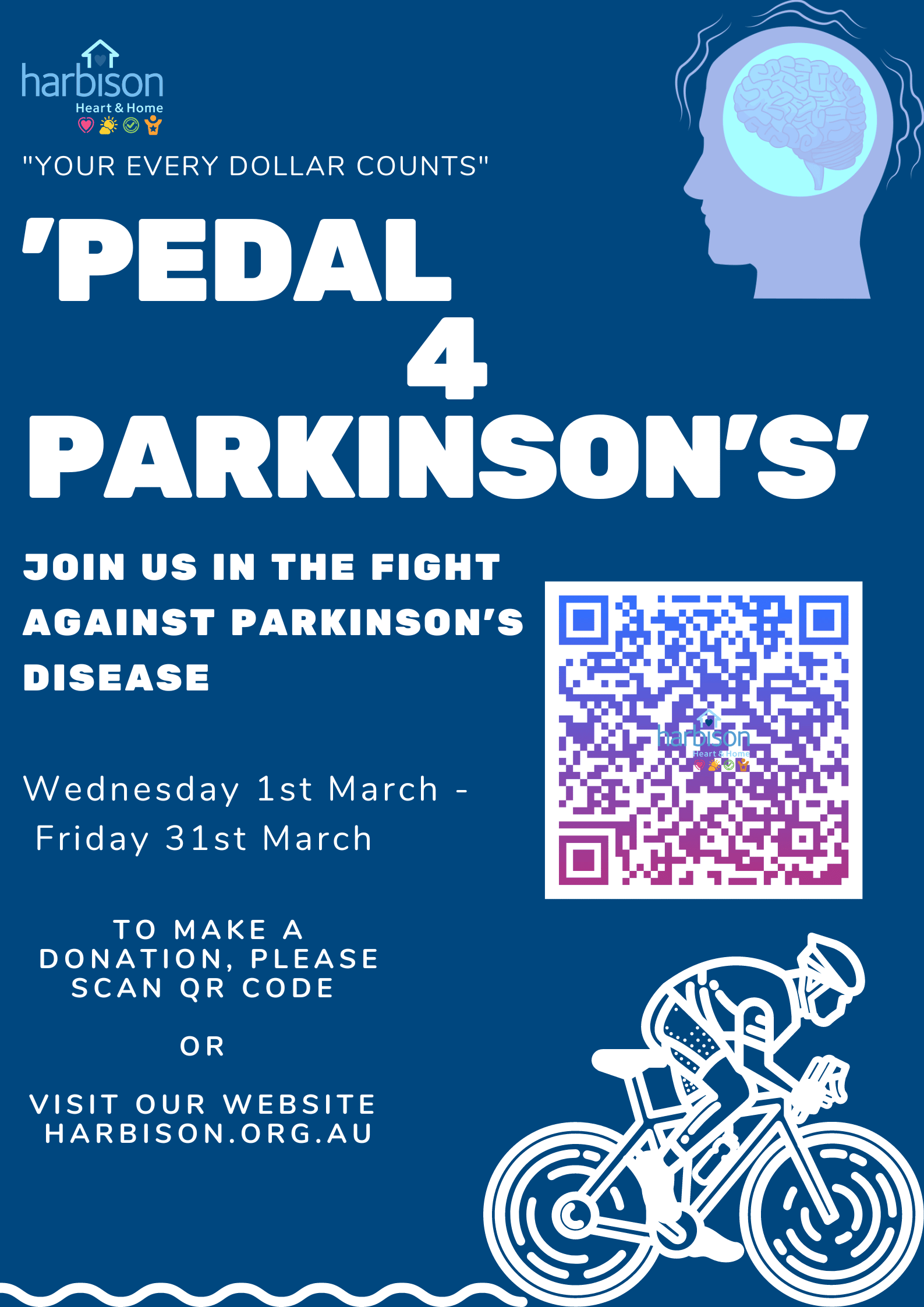 Join us in March for 'Pedal 4 Parkinson's'. 
This month of March, the Harbison Allied Health team will be using our popular Motiview Program to help raise awareness of Parkinson's Disease and to fundraise for access to assistive equipment and strategies to support those living with Parkinson's Disease at Harbison. The 'Pedal 4 Parkinson's' event is open to all our resident's, including those with Parkinson's, their families and carers.
Parkinson's disease is a neurodegenerative disease that primarily affects dopamine-producing neurons in the brain, primarily impacting mobility, with symptoms getting progressively worse over time. Tremors, movement, and balance difficulties, limb rigidity, and delayed muscle action are all symptoms of this progressive disease. While each person's symptoms differ, consequences are frequently serious.
In Australia, it is the second most common neurological disease and approximately 38 people are being diagnosed each day. The number of people with Parkinson has increased by 17% in the last 6 years, and approximately 10 million people in the world have Parkinson's Disease.
Although awareness, medications, and allied health support can assist those who are impacted by the disease, there is not a cure. Exercise can have a positive impact on the symptoms of Parkinson's Disease, as it helps build new pathways in the brain to replace those that have been damaged, resulting in some improvement to motor symptoms – which is why it is the key focus of our event.
All money raised from the event will be used to support improved Parkinson's strategies at Harbison to enhance the lives of those living with the disease. Harbison is home to several residents affected by recent and long-term effects of Parkinson's Disease. Most of them are motivated to attend regular exercises but can struggle with everyday tasks, impacting their independence and quality of life.
Dedicated to World Parkinson's Day on April 11, Harbison hopes to raise $10,000 to use towards assistive devices for residents at Harbison and we hope our residents can hit a target of 10,000 kms on our Motiview bikes while increasing everyone's awareness of the disease.
To participate, simply find a Motiview bike at Harbison located in the cinema at Burradoo and the Gym in Moss Vale and pedal for as long as you can each day. There will be a register nearby where you can log in your kilometres which will then be verified and entered the system by an Allied health team member. Our target is 10,000kms!
We invite the community to support Harbison and our residents in this cause by donating to our fundraising page. Click to Donate
OUR TARGET IS $10,000! The generosity of our community will make a real difference to the lives of those affected by Parkinson's Disease.
Thank you for your support, together, let us 'Pedal 4 Parkinson's'!