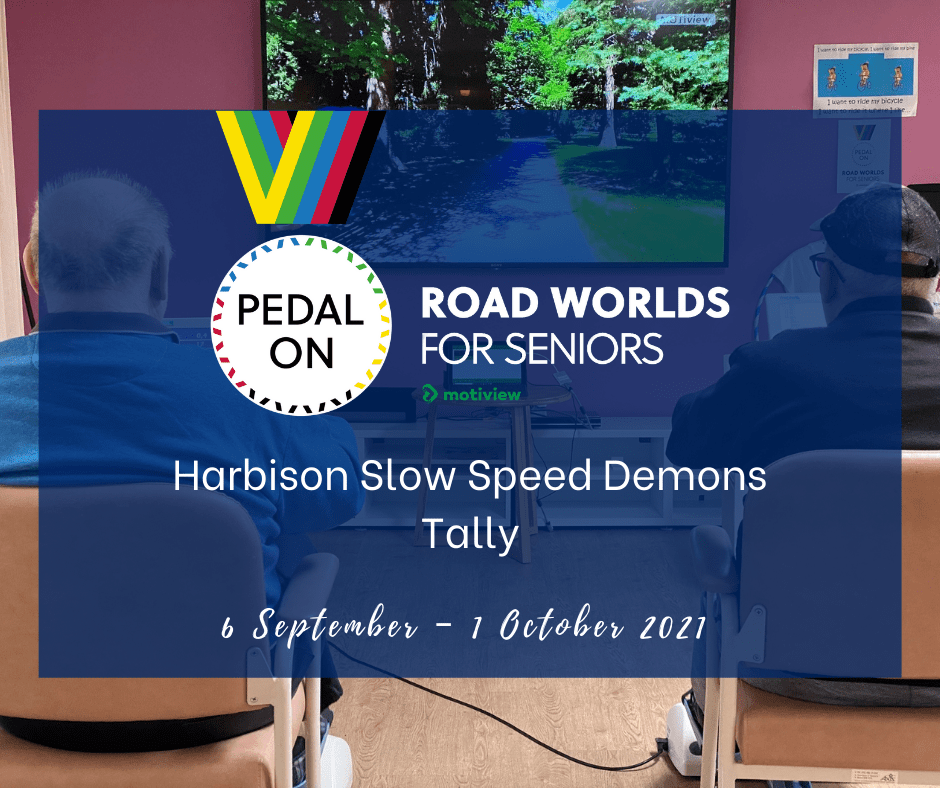 Harbison Slow Speed Demons 2021
Congratulations to our Slow Speed Demons! In the course of 4 weeks they travelled a combined total of over 9000km — surpassing the 3000km (each) target that was set.
On the International Leader-board, our Burradoo team finished in 5th place with our Moss Vale team not far behind in 9th place.
Our other achievements include:
2nd place in the Women's Leader-board with Dot Robinson cycling 1380.5km
7th place in the Men's Leader-board with Peter Stanmore cycling 986.4km
Well done Dot and Peter!
We are so proud of our teams' achievements and we look forward to Road Worlds for Seniors 2021!
Visit the Road Worlds for Seniors website to view international results.
| Date | Kilometres Travelled (Burradoo) | Kilometres Travelled (Moss Vale) | Total Kilometres Travelled (Accumulated) |
| --- | --- | --- | --- |
| 6 September 2021 | 157.9 | 160.2 | 318.1 |
| 7 September 2021 | 286.7 | 189.8 | 794.6 |
| 8 September 2021 | 213.2 | 165.1 | 1172.9 |
| 9 September 2021 | 175.2 | 154.4 | 1502.5 |
| 10 September 2021 | 187.7 | 172.9 | 1863.1 |
| 13 September 2021 | 157 | 216 | 2236.1 |
| 14 September 2021 | 211.5 | 202.9 | 2650.5 |
| 15 September 2021 | 226.1 | 222.7 | 3099.3 |
| 16 September 2021 | 237.2 | 194 | 3530.5 |
| 17 September 2021 | 215.1 | 179.9 | 3925.5 |
| 20 September 2021 | 275.8 | 171.1 | 4372.4 |
| 21 September 2021 | 2578.9 | 2253.7 | 4832.6 |
| 22 September 2021 | 247.5 | 248.2 | 5328.3 |
| 23 September 2021 | 259 | 202.4 | 2789.7 |
| 24 September 2021 | 246.6 | 264.1 | 6300.4 |
| 27 September 2021 | 160.1 | 279.6 | 6740.1 |
| 28 September 2021 | 416.8 | 195.6 | 7352.5 |
| 29 September 2021 | 259.6 | 228 | 7840.1 |
| 30 September 2021 | 440.2 | 217.3 | 8497.6 |
| 1 October 2021 | 408.9 | 187.9 | 9094.4 |