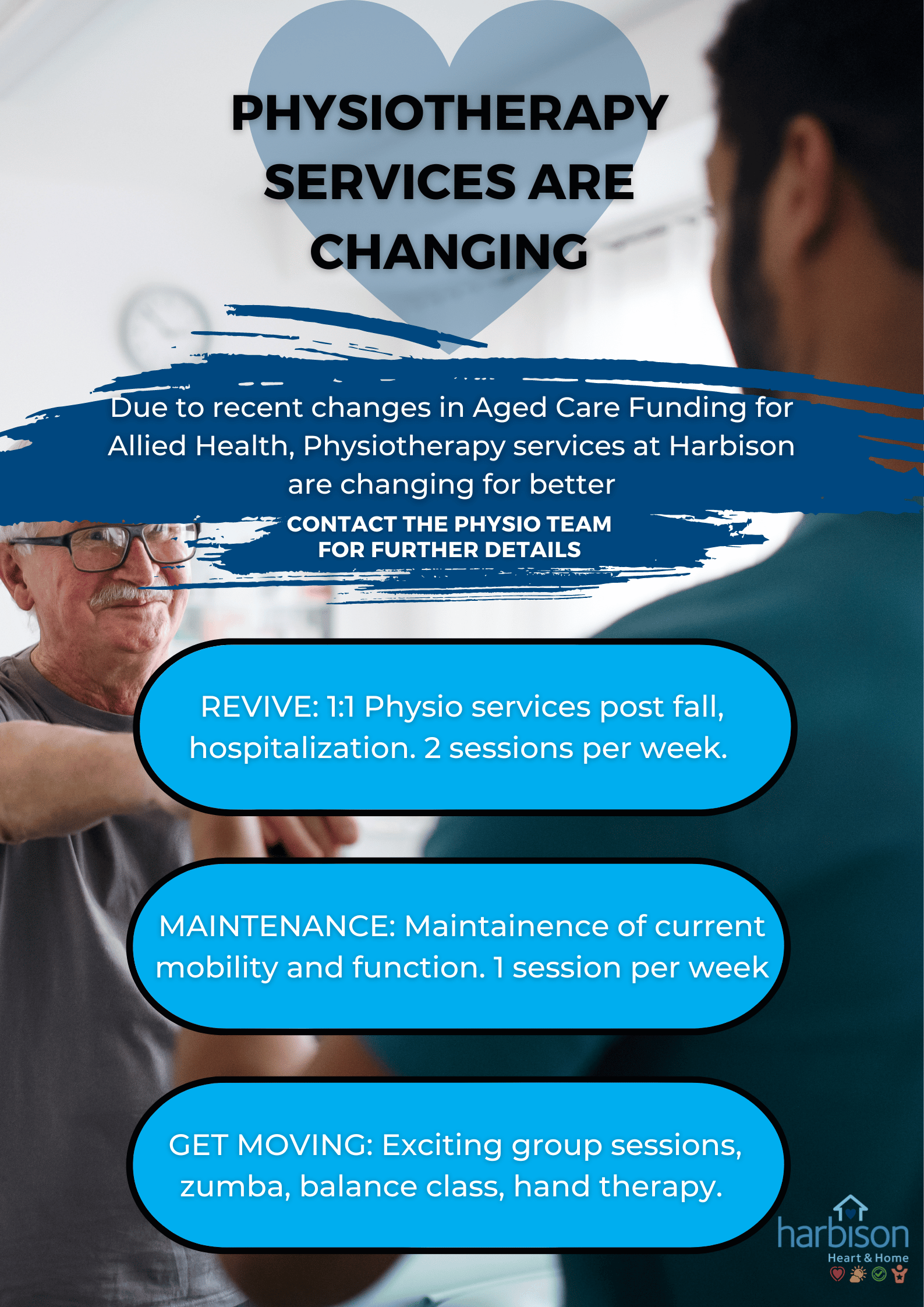 Harbison has been providing physiotherapy services for over three years. Initially hired as contractors, Nitish and Saili were brought into the Harbison team as permanent employees in August 2022. Having access to permanent Physiotherapists onsite means that residents will receive services appropriate to their needs and improve their quality of life. This aligns with Harbison's vision to build a complete Allied Health team that includes Occupational Therapists and Exercise Physiologists.
The success stories of champion residents give inspiration to others who are still in doubt about the benefits of Physiotherapy.  Stories like these have always been the motivation for the Physio team to achieve higher results for the Harbison family.
Permanent residents who fall under the acute care rehab schedule due to their mobility and pain concerns are entitled to participate in Program I: 'Revive Program' — six weeks of one-on-one physiotherapy rehab for two 30-minute sessions weekly. Those who can follow exercise plans prescribed by the Physio team can opt for Program II: 'Maintenance Program' which includes Physiotherapy sessions once a week for a duration of 6 weeks.
Any additional sessions during these programs will be paid sessions, and these will need to be discussed on a case-by-case basis considering the goals and health concerns of the residents. At the end of 6 weeks, Physio team will have a conference with the residents and their family to discuss further plans. We are mindful of the comorbidities that could arise in between a rehab package and hence the rehab programs and schedules will be changed as needed.
In addition to these programs, there will be new group exercise programs onsite during the week, which residents can attend to as per their goals. These are in addition to the morning group exercise class and include:
Balance groups
Hand Rehabilitation groups
Zumba
Availability for these group sessions is based on a first come, first-serve basis so please ensure you arrive early if you wish to participate. All group sessions are run for free.
Kind regards, Physio Team
Any enquires please contact Nitish and Saili using the Enquiry Form