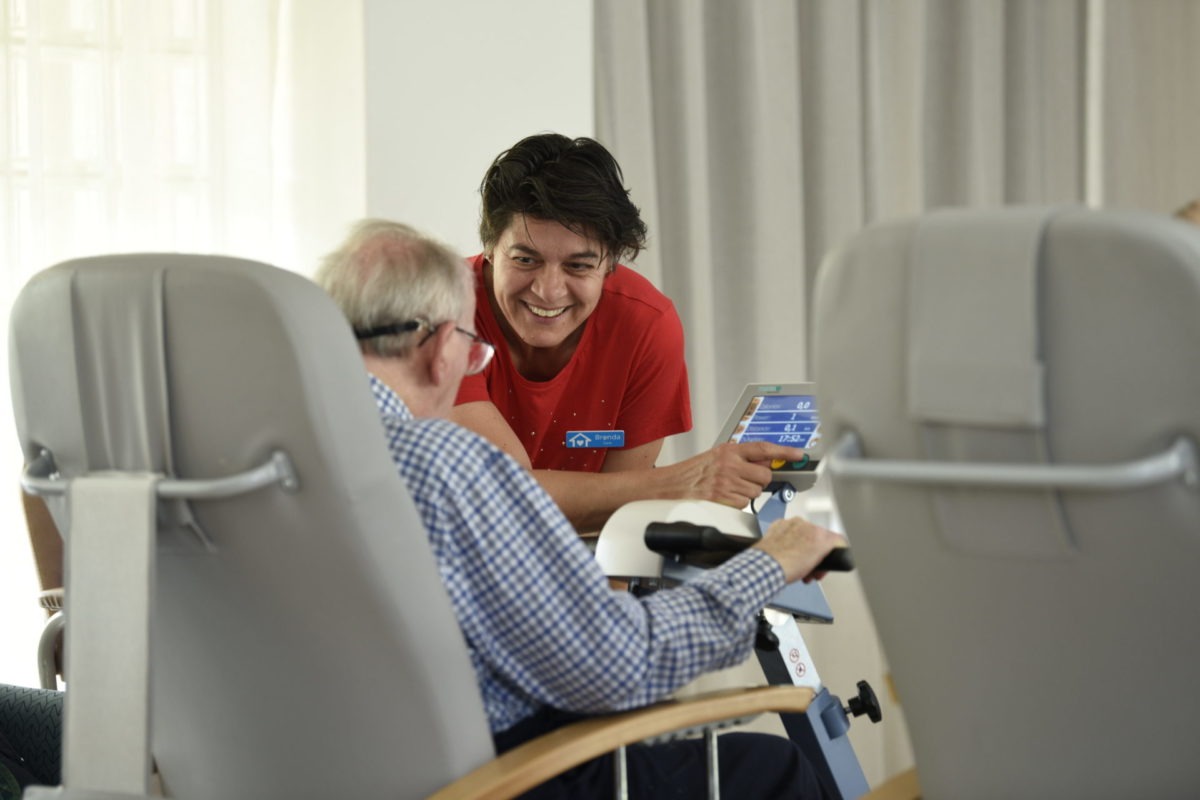 Road Worlds for Seniors 2020
Residents of Harbison have formed a team to enter the Motitech Road Worlds for Seniors event, which will run from Monday, 7 September until Friday 2 October 2020. After the postponement of The Olympics, the UCI World Championships and the Bowral Classic, Motiview's fourth Road Worlds for Seniors cycling championship is one of the few international sporting events that is still going ahead this year.
Since beginning in Norway in 2017 the competition has grown to 4,333 cyclists from seven countries, who collectively completed 108,412km in 25 days in September 2019. In their first attempt, the Harbison 2019 Motiview team placed 78th out of 194 teams!
This year, care homes from the Australia, the United Kingdom, Canada, Sweden, Denmark, Norway and Iceland have signed up to compete with over 100 teams set to get back on the saddle. Harbison 'Slow Speed Demons' will be the only Australian representative in the competition and hopes to inspire other aged care facilities in the country.
The competition is designed to encourage participation in competitive physical activity, reminding all that no matter your age, mobility or situation, you can still be an athlete. During the championship, residents will use Motitech's virtual cycling system, Motiview, to cycle through a choice of over 2000 locations, including the Southern Highlands, on stationary bikes via a video projection that plays whilst the person pedals (with hands or feet, depending on mobility).
In February 2018 the Duke and Duchess of Cambridge experienced Motiview first-hand when Prince William took a trip down memory lane as he cycled through the familiar streets of St. Andrews.
Harbison was the first aged care facility in Australia to incorporate Motiview in the residents' daily activities, using only one special Therabike to compete in the 2019 event. This year, they have three Therabikes and are ready to cycle their heart out — and all for a good cause. The Harbison 'Slow Speed Demons' are raising money for two more Therabikes — costing $8000 each — for the Moss Vale home.
Harbison Moss Vale is currently undergoing renovations and, once complete, will be set up with Motiview so more residents can enjoy health benefits including an improved quality of life, increased confidence and more social interactions, faster rehabilitation and improved mental well-being. Community groups are invited to sponsor the Harbison team by emailing pledges to friends@harbisoncare.org.au.
The Prime Minister of Norway, Erna Solberg, has also shared words of support with the residents and staff taking part in this year's championship:
"Dear cyclists in the Road Worlds for Seniors. The whole world has been affected by the COVID-19 pandemic. The virus had a major impact on daily lives for us all. For those that live in residential care, or usually attend an adult daycare centre, this time will have been especially challenging. This year, major championships such as the summer Olympics, the European football championship, and the world cycling championships have been cancelled due to the virus, but the Road Worlds for Seniors will go ahead as usual for the fourth year in a row. I truly believe that the championship can bring joy and inspiration, despite the special circumstances, and I wish participants and support staff the best of luck. I look forward to hearing what you can achieve together."
Road Worlds for Seniors is a competition, but most of all it is a great opportunity to focus on the importance of physical activity for older people and people with dementia.